Limo Services for Shopping in Miami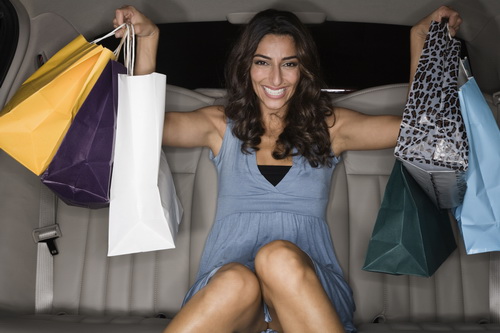 South Florida is a wonderful place in which to live, and it's a mesmerizing place for people to visit and vacation. The area has so much to offer everyone. Of course, there are sporting events, museums, art galleries, and the pristine beaches and warm, blue waters for incredible fun in the sun and ocean however; there are also magnificent shopping options available to all. From chic, little boutiques and specialty shops to pricy outlets and designer stores, "The Magic City" has so much to offer. Even the most discerning shoppers will feel like they are in retail paradise. The only problem with shopping in the area is the lack of available parking. Oftentimes, you have to drive around to find available parking, and then walk a good distance to get to the shops. Of course, you'll have to lug all of those bags back to the car. Many people opt to use a car service for their shopping excursions. This way, the limousine will be right there to whisk you away when you finish at a store. They will also have your bags secured while you continue shopping at other places. Luxury Transportation Group USA provides door to door transportation services for shopping excursions.
Shopping Trip Limousine Services
Shopping trips can either be extremely pleasant experiences, or they can be absolute nightmarish. The stress of driving on the congested streets can put someone close to having frazzled nerves. People just stop without notice, or they'll make a turn from the wrong lane jeopardizing everyone else on the road. Naturally, there are the people who will double park and just sit there while they wait for someone to come out of the shops. Driving in South Florida can really be crazy. A limo service that specializes in shopping excursions can be relaxing and safe. Luxury Transportation Group USA offers top of the line limousines for shopping trips.
Limos for Holiday Shopping
Shopping for the holidays can be stressful and hectic. Everybody is out trying to get the gifts that they need to buy, so they can delight their loved ones and leave them happy. The shopping district is always packed from Thanksgiving Day on, so it makes finding parking very difficult. Smart shoppers find it wise to use a car service for their excursions. It makes much more sense than stressing over the lack of available parking. Luxury Transportation Group USA will provide you with a luxury limo for the duration of your shopping trip.
Luxury Shopping Transportation Services
Luxury Transportation Group USA is the leading provider of top of the line limousines for shopping trips in Miami, Orlando, and Tampa. Their professional drivers are attentive to their passengers' needs, and will gladly store your bags while you continue to shop. Call 407-476-0429 to schedule limousine services for your next holiday shopping excursion.